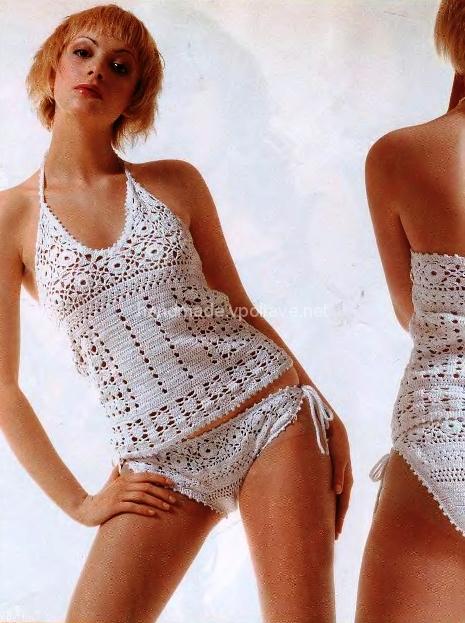 First of all, knitted underwear is very unusual! And besides, it contains notes of romance, sexuality and beauty. The young man, having seen you in him, will fall in love again, and the girlfriends just acquire, because you cannot buy this in a regular store, and not everyone can afford a hand-held robot. But we have the opportunity to do it with our own hands, and so we proceed!

The set is crocheted. For size 44-46, we need: 300 grams of cotton yarn and hook number 2.
Consists of a set of panties and top.
We start knitting from the top. The pattern can be seen in Fig.14. We knit bands of motifs (Diagram 14) and in the process of knitting the last row we connect them. Motifs connect in a circle. Also, under the scheme 14 knit cups. After the end of knitting motifs, knit from the edge of the bodice down, according to the pattern. The bodice blends in a spiral. Rapport schemes repeat 5 times. We tie the last row, connected with 1 double crochet, with crocheted columns and picot (Fig. 14 A). Straps knit air loops. We tie straps, cups and neck with several rows of single crochet columns. In the last row add pico. Tying the canvas in the bodice area it is necessary to knit slightly, in order to give a volumetric shape to the cups.
Добавлена: Sunday September 29th, 2013 Обновлена: Friday January 10th, 2020