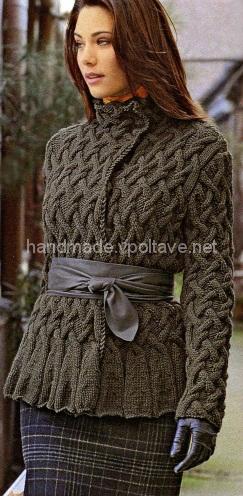 This extravagant jacket will not disregard anyone! It can be used as a jacket that will warm you in the cool time of the year, and in addition with a belt at the waist you will look simply irresistible! This model is taken from the well-known knitting magazine, which is 100% consistent with the fashion of this season. Want to catch yourself piercing glances – then this is exactly what you need!
For knitting, knitting will be needed: yarn consisting of 50% wool and 50% acrylic, with meter 80 meters in 50 grams, knitting needles No. 5.5, one auxiliary needle and black buttons with a diameter of 21 millimeters – 5 pieces. And so, we start:
And let the time for knitting, fly by!
Добавлена: Monday October 14th, 2013 Обновлена: Wednesday December 18th, 2019