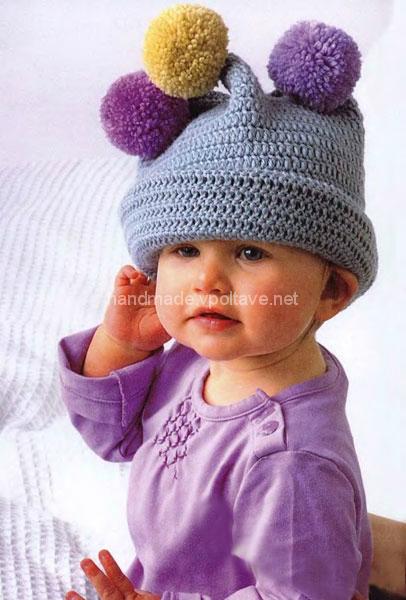 At first glance it may seem that it is not so easy to tie such a hat, but it is not at all so! In fact, this is the simplest model, which is crocheted from rather thick threads, and this is proof that you will not spend a lot of time on its implementation. When her knitting does not even need to care about the form, you just need to collect the top edge to form the four corners, which then decorate with colorful pom-poms.

For knitting you will need: 1-2 skeins of pale green color (according to the age of the child you are knitting), weighing 50 grams, and some yarn in pastel colors of other colors, as well as a hook number 3 .
Size hats choose according to the age of the child:
3-6 months (9, 12, 18 months or 2, 2.5 years).
Knitting density:
21 double crochet with 12 rows = 10 by 10 centimeters.
Begin knitting with air loops, dial 86 (90, 94, 98, 100, 102) air loops.
1st face row – skip 3 air loops * 1 double crochet into the next loop, repeat from * to the end of the row, in the end we get 84 (88.92.96.98, 100) loops.
Beyond that, without turning or twisting the robot, we close it into a circle with a connecting stub into the top of the three air loops. Next, knit in a circle.
2nd row – 3 lifting loops, and knit a row with double crochets, at the end we end up with a connecting column. Repeat this series until there are 20 (22, 24, 26, 28, 30) rows.
We fix the thread.
In the completion robots we connect the ends of the 1st row. This should be done, on a flat surface, lay the cap face up to the top, and place the back seam in the center. Next, we form folds on each side of the cap, distribute them so that in one of them hide the back seam, and fasten them with pins. Thus folds are arranged crosswise. Next, we join each fold next, with crochets, which we knit through both layers, starting from the outer edge. From multi-colored yarn we make 4 pom-poms and sew to each corner of the top of the cap. Fold back the edge of the cap, and it is ready!
Добавлена: Sunday October 20th, 2013 Обновлена: Sunday December 22nd, 2019