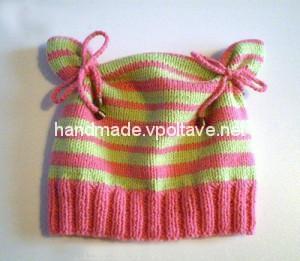 The cap is knitted. She is very spectacular and quite easy to fit. Your child will certainly appreciate it. We knit a hat on a child of 2-3 years old, in a girth of the head about 48 cm.

You can take a wool blend yarn, for example: "Prestigious" Pekhorka, where 50% wool is "merino", 50% is cashmere, 200m/50g. You will need a yarn of two colors, in our cases of pink and light green colors, 50 grams each. But if you knit a hat for the boy, you can choose other colors.
Knitting needles take circular or long No. 3.
We knit the front smooth surface according to the principle: Facial row-face loops, purl row-purl loops.
The density of knitting should be: 24 loops and 36 rows = 10 x 10 centimeters.
"Eraser" knit 2 x 2 (2 face loops – 2 purl).
The color stripes are knitted: 4 rows of one color (for example, green), 4 rows of another (for example, pink); 4 rows of one (green) 2 rows of another (pink).
We start the robot:
!!! Knit in two threads !!!
Recruit needles number 3 102 loop pink yarn (loops should be divided into 4 + 2 edge loops).
Knit pink yarn 15 rows of "elastic".
Next, knit the front satin strap. When the length has reached 14 cm, we close all the loops.
To assemble, first perform the back seam, after – the top.
For tying the "ears" you need to tie two strings. We crochet them simply from air loops. At the tips you can wear beautiful large beads or special "tips".
Ties "ears".Approximate ratio of child's age and volume of his head:
from 0 to 3 months: 35-40 cm.
3 to 6 months: 42-44 cm.
from 6 to 12 months: 44-46 cm.
from 1 to 2 year: 46-48 cm.
from 2 to 3 year: 48-50 cm.
from 3 to 5 years: 50-54 cm.
from 5 to 8 years: 52-56 cm.
Добавлена: Tuesday September 17th, 2013 Обновлена: Wednesday January 8th, 2020