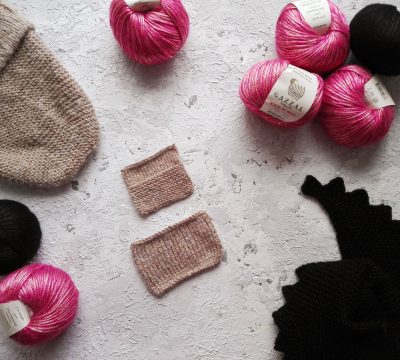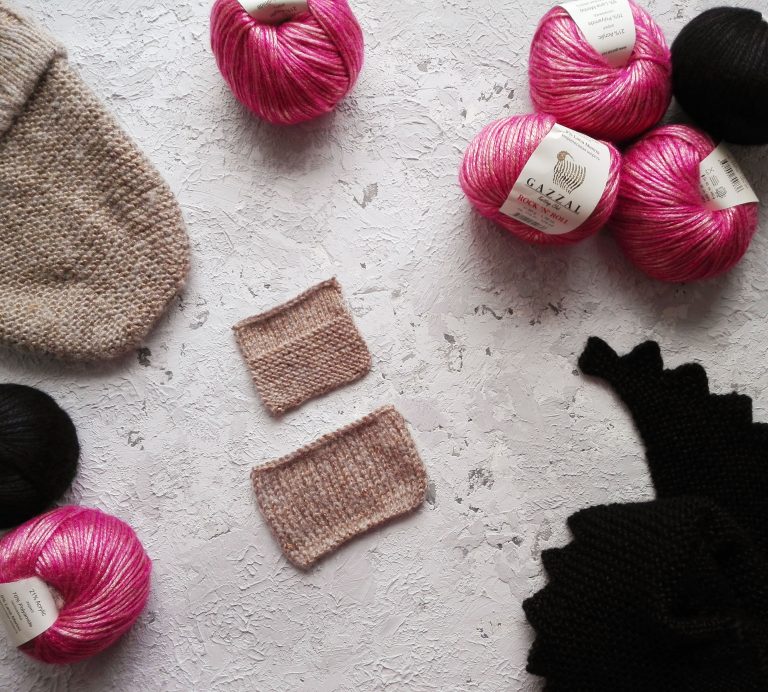 There are already a lot of reviews of this yarn on the Internet. And all the reviews are quite different. Someone like Rock-N-Roll from Gazzal likes it because of its brilliance and beauty, while others criticize it for its unnatural composition. I decided to weigh all the pros and cons and draw my own conclusions.
If you already have your knitting experience with this yarn – it will be very interesting to know your opinion! Leave your feedback in the comments. 
So, the label says:
In the composition of 21% acrylic, 70% polyamide, 9% merino wool;
Metric area – 115 meters in 50 grams;
Spokes number 4 – 4.5, hook 3 – 4 mm;
Manufacturer – Turkey.
First, the pros:
The yarn is very beautiful and elegant, shiny, especially when still in a hank)
Soft to the touch, but this does not apply to all shades;
A large variety of colors;
Affordable price.
Perhaps this is all) Though there are not many advantages at all, but they are very weighty! Otherwise, how can one explain the fact that so much of it is knitted from it, including myself? ;)
Now about the cons, so to speak:
The biggest, in my opinion, is that itscan't dismiss! Even if you try, you will suffer very much, and as a result, the yarn will lose its original appearance. Down from the yarn falls down, lumps of it are formed, or "bald areas" without it.
Therefore, sure to knit a sample, And do not be lazy, so as not to have to dress up!
But since I initially knitted hats from this yarn – I did not succeed in dissolving, and I experienced all the "charms" of rock and roll on myself and my products)
Also, the yarn is very stretched after the WTO, and especially in the process of wearing. By this I recall once again – knit sample!)
It is for this reason that I bandaged my caps several times. And this is despite the fact that I was not lazy to knit a pattern! Just calculations did not coincide with the final result. You can read about it here: Knitted hat My Rock N Roll – Knitting Master Class
The next disadvantage is that this thread is easy to hook with knitting, even when knitting, and make a puff. It is also contraindicated for her to even come close to any kind of velcro, otherwise her hooks are secured!
I checked it out on my own experience when I put the cap of my daughter on top of her stroller, and it "stuck" to the velcro … Tearing it off was very scary and exciting)
Regarding the composition, then more than 90% is synthetic. Brilliant acrylic lace inside – entwined with merino fluff.
And personally, in my opinion, this is hardly a merino. Although the yarn is soft, but if you put a gun in a pile and burn it, it burns, all the same, more like synthetics, leaving behind a hard ball. Though there is a slight smell of burnt hair, it smells like wool.
Also, this representative does not hold the gum at all. And if you need it, you can strengthen it with an additional thread or knit it with smaller size knitting needles. But in the latter case, it will still be only a decorative element.
There are differences between the coils depending on the color. They may vary in softness. Also, some colors are less wearable, in my opinion. Appear pellets. And others collect all the garbage.
For the first time I was knitting from a golden brown with a white fluff – it turned out to be short-lived in a sock, the pellets appeared. Further, black – collects a lot of excess. Also, in my opinion, but not exactly, it also happens with red yarn entwined with black fuzz. To pink, so far I have no complaints) have not worn it yet)
A bit prickly – but mostly with tight knitting, and not for everyone.
And also, probably the last will be that the yarn has no properties to warm. This is due to its synthetic composition.
But in all you need to look for positive qualities!) But it is well suited for spring or autumn – when it is not cold, but I want to show off in a beautiful hat and shine a little!) Although, in a hat that I knitted, it's not even cold in winter – verified ! All by the fact that she has a triple-cuff) And it looks beautiful – and does not allow to freeze!) Knitted hat
Bottom line: the Gazzal Rock N Roll yarn is beautiful and shiny, and this draws attention to itself. It is not very easy to knit out of it, as there are clues, you can not guess the size, and it is not desirable to dismiss it. But things turn out very stylish, even if it is just a shawl surface. For this, you need to try – and you just get it all!) I wish you good luck!
Link to video Knitting Yarn Gazzal Reviews
I wish you a pleasant viewing, and do not forget to subscribe to my channel!)



Also put likes and write comments, I will be very pleased!))
Subscribe to my Instagram page: Many photos on Instagram
Добавлена: Wednesday April 17th, 2019 Обновлена: Sunday March 15th, 2020