You can knit a fashionable knitted sweater with leaves on the sleeves for yourself. And if you use this master class, you can cope much faster. In the footage I tried to explain and show everything in as much detail as possible and clearer – for this, I hope it will be useful, and you will be able to knit a sweater without problems.

In the conduct of the video channel, I am still quite new at this point, and for this reason, perhaps everything still does not look like this – as I would like. But I try very hard and invest a lot of time and effort! By this, I am not very pleased when people notice only the flaws in the work I have done. So for example, I made a video review of this sweater to warn about the yarn, and advised her to change. But in the end it turned out only worse. I heard a lot of criticism and negative reviews that I did not correctly pronounce the words in Russian, that my hands were not behaving correctly in the frame, that the video was about nothing … it turned out … My goal was to show and tell those moments that I would correct if I knit this thing again. And I think the main thing is – is it clear if I tell and show about the knitting process itself, and what result will the audience have if they knit in my video.
As for the pronunciation, I will certainly try to speak correctly, although I don't promise that I can!) By the fact that I live in Ukraine, and we have our own language, Ukrainian. And I, more than confident that many Russians, are not able to speak it, and do not even understand it. Therefore, if you are too impressionable, and you just cut my ear, you better pass by, so as not to get annoyed once again, because the nerve cells do not recover!
Just before I already said that the photo I am very serious, and it would be better to smile. I will take into account this moment for the future, although I'm still showing not myself, but a related product. And I think about the fact that it may even be better to take a photo without a face in the frame, and to focus the viewer's attention only on the thing.
Thank you all for your attention and understanding !!! Sorry – it's just a cry from the heart!)

Photos of the finished work: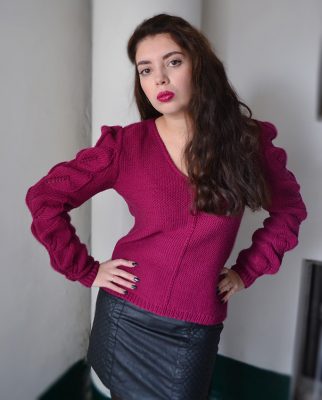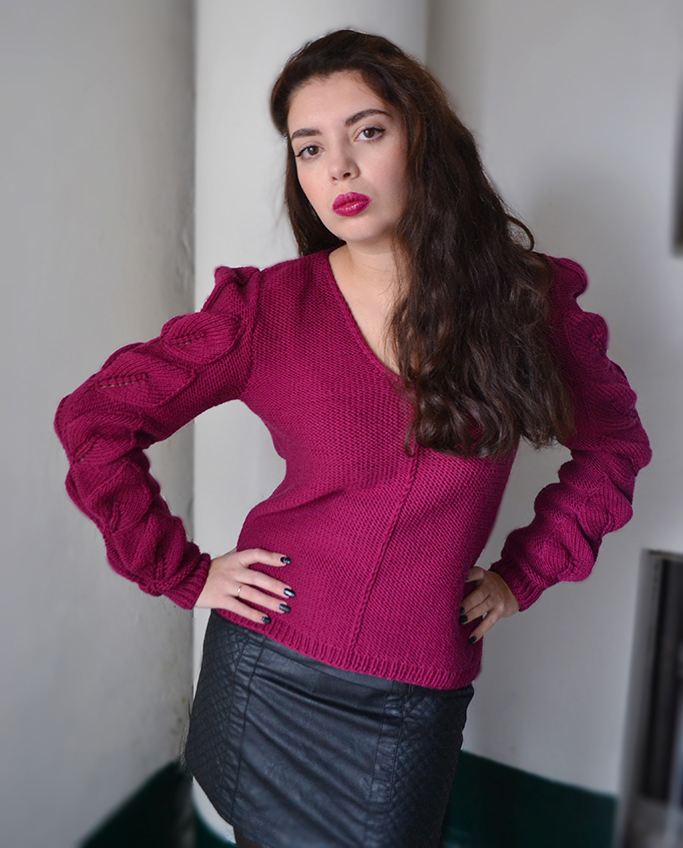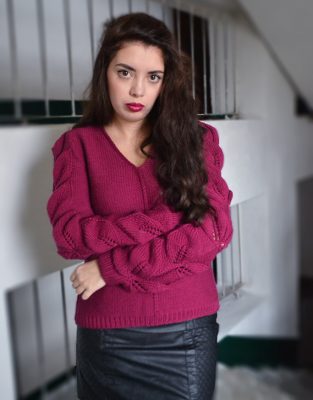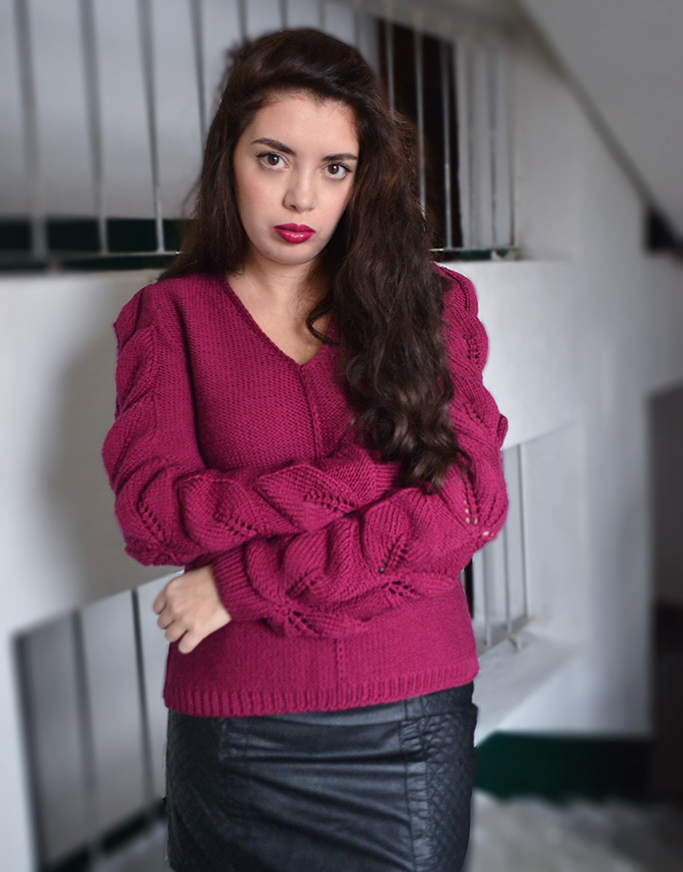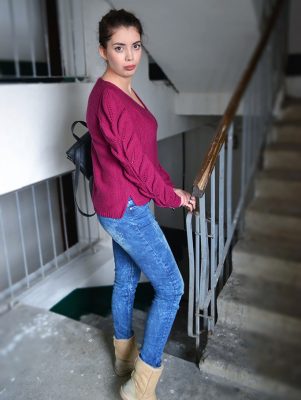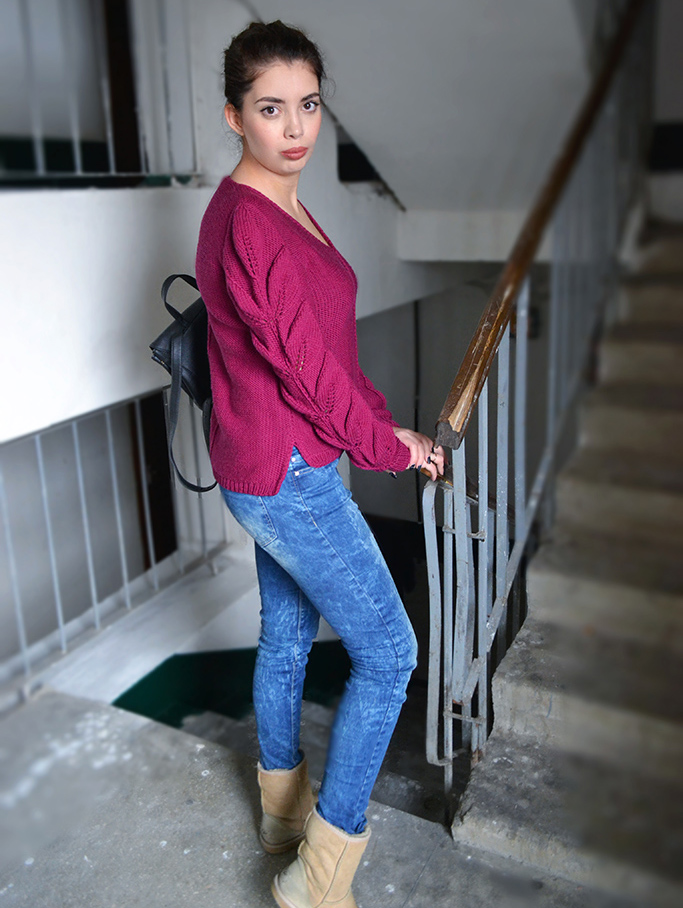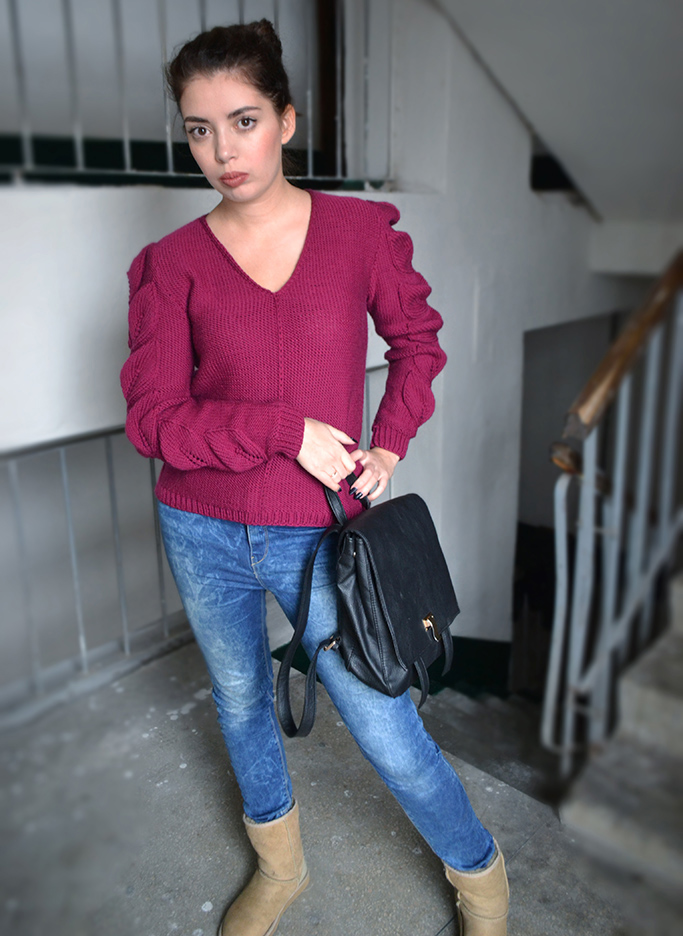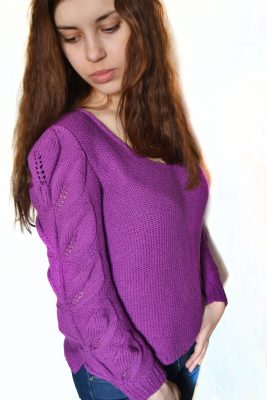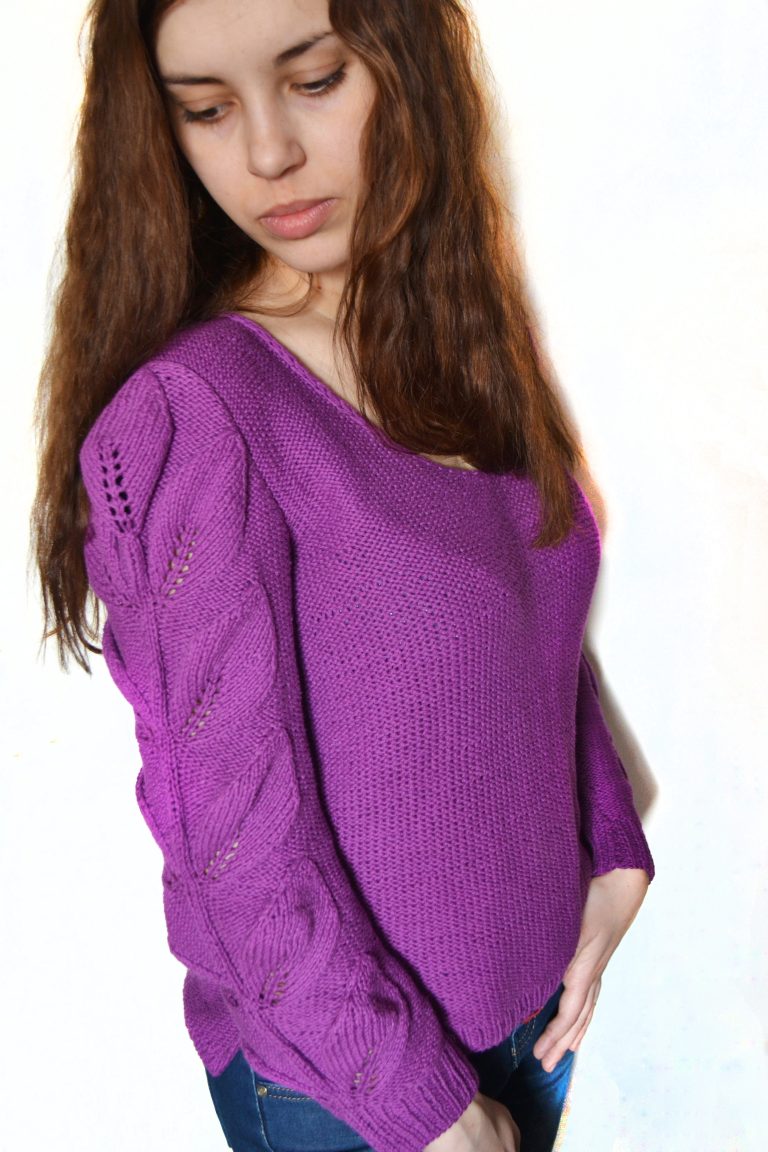 And now what about the master class itself – it was created for both skilled knitters and beginners.
Includes 6 video lessons with a total duration of almost 4 hours.
In it, I tell in detail and show the whole process of work: – building a pattern of the right size;
– calculation of loops and why a sample is needed;
– a visual set of loops and knitting process;
– pattern "leaves" in rows;
– stitching the finished product;
– crochet edges;
– recommendations on yarn.
Scheme of leaves knitting:
Here I will add the video gradually, as I upload to YouTube:
Presentation:

Video review:

Pattern and calculations – part 1:

Beginning of the sleeve + leaves pattern – part 2:

We finish knitting sleeve – part 3:

Knit front and back – part 4:

Sew the finished product – part 5:

Crochet the neck – part 6:

I wish you a pleasant viewing, and do not forget to subscribe to my channel!)



Also put likes and write comments, I will be very pleased!))
Presentation Sweater with leaves on sleeves
Master Class Leaves sweater (part 1)
Master Class Leaves sweater (part 2)
Master Class Leaves sweater (part 3)
Master Class Leaves sweater (part 4)
Master Class Leaves sweater (part 5)
Master Class Leaves sweater (part 6)
Follow me on Instagram: https://www.instagram.com/by_marina_morgun/
Добавлена: Friday September 14th, 2018 Обновлена: Monday April 20th, 2020