This spectacular and intricate scarf, lavishly decorated with fringe and a pigtail, you bind with passion and will wear with pleasure. He is suitable as a gentle and romantic image, and for everyday wear. Also scarf can be ordered master, which will link it for you. If you are interested in this offer – please contact us, we are happy to assist you.
(Do not forget to knit a scarf pattern swatch and in the process we check for knitting fabric with a pattern or desired size.)
The length of the scarf without fringe 140 cm, width 34-35 cm.
Knitting we need: 550 grams of gray yarn, composed of 50% wool and 50% polyacrylic, the meter 230 meters per 100 grams, as well as the spokes №4, needle for sewing on buttons and 2 button with a diameter of 4 centimeters.
Garter stitch pattern, all series – facial hinge.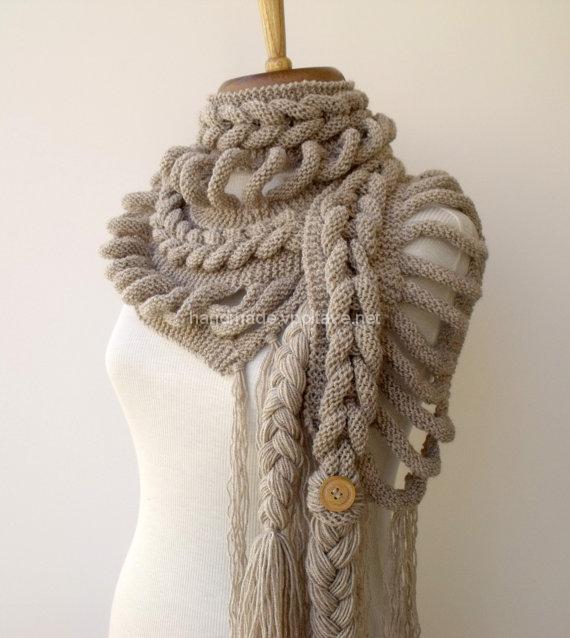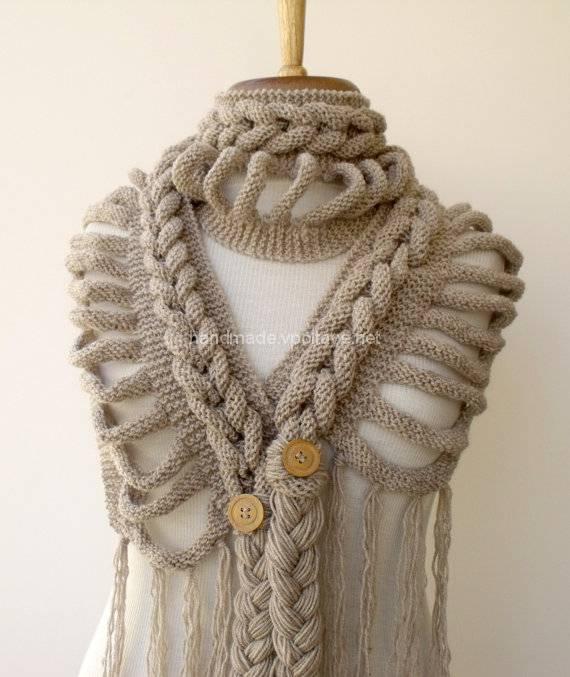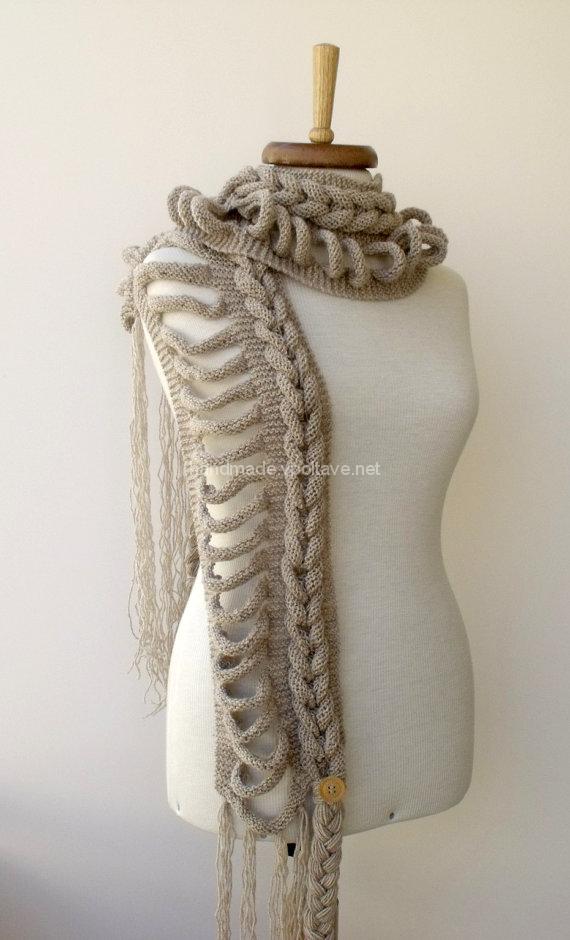 Description robots
Recruit spokes 59 p., Knit 7 p. Garter Stitch.
8th row: 5 p. Persons. Following 22 p. Closed, 5 p. Persons., 22 p. Closed, 5 p. Persons.
9th row: 5 p. Persons. Recruited spoke 22 p. Instead closed in the previous row, 5 p. Persons., Recruit 22 p. Instead closed in the previous row. 5 para. Lindens.
10-15 th rows of knit facial.
Rapport pattern starting from the 8th to the 15th row repeat until complete vyvyazyvaniya scarf.
Putting: dovyazav fabric scarf, choose any of the bands to draw pigtails. To do this, at the beginning of scarf raise a first longitudinal strip and pull it out from under the following, from the resulting loop pull the next strip and so on until the end of the scarf. To braid is not broke, we fix it at the beginning and at the end of the scarf. Then at this point the top sew on buttons. To prepare for each brush filaments 10 to 100 cm long, fold them in half, stretch the resulting loop through the places marked on the scarf with the letters "a", "b", "c", and stretch the entire skein through an elongated loop. In places marked with the letter "g" (the beginning and the end of weaving "braid" of horizontal stripes scarf), do skeins of yarn segments 30 to 100 cm, pulling them out of the loop obtained braid. partially pletёm simple pigtail length of 22 cm, ending knit braids threads, leaving the rest of the segment in the form of fringe. In the attachment points of the braids sew on buttons.

Добавлена: Tuesday September 24th, 2013 Обновлена: Friday January 10th, 2020