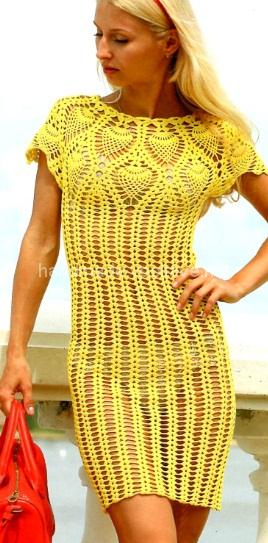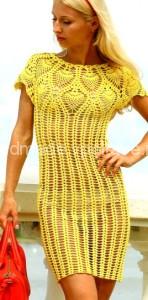 This, at first glance, simple dress looks very impressive. You see it, and you immediately remember the summer, the sun, the sea, the beach … Oh, how I want to return to those warm and sunny days. You walk along the seashore, and there are stunning views around you, because this dress is one of those that everyone will pay attention to. Well, since this summer we didn't manage to realize this little dream, we'll definitely have time before the next one! And most importantly, knitting it is not at all difficult and it will not take a lot of your time.
This summer openwork dream is crocheted with the No. 2 yarn "Ivushka", which includes 50% cotton and the same amount of acrylic, measuring 430 meters and weighing 100 grams.
Dress will knit from top to bottom.
For size 36 we need to collect 240 air loops and close them into a chain, this will be the width of the neck. Next, continue to knit scheme.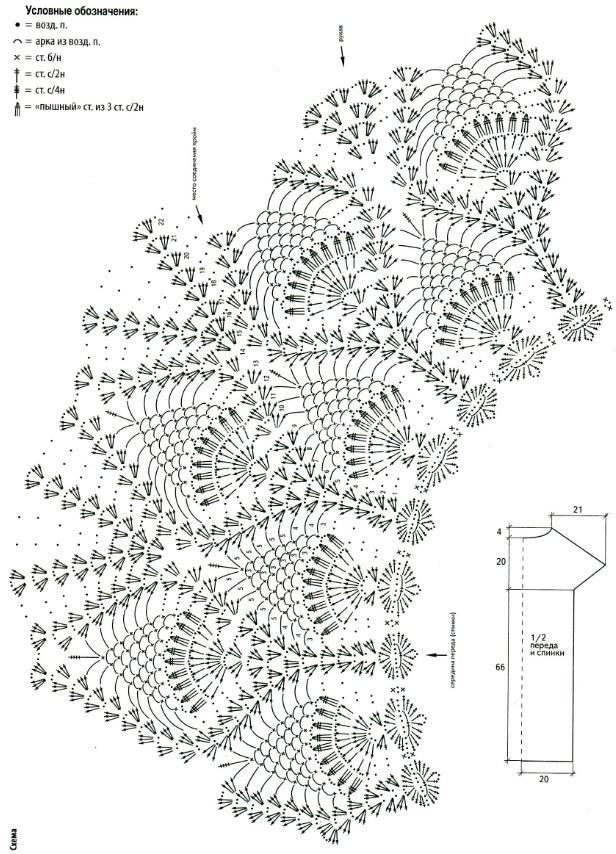 It is necessary to tie 19 rows, and then mark with a thread of a different color where the armholes will be (indicated by arrows in the diagram). Then we continue to knit in a circle only the front and the back, knit rows number 20, 21, 22 one at a time, and then repeat the 22 row. When we finished up to 38 rows, instead of 2 air loops between paths, we knit 3 loops each, we tie up to 48 loops, we knit already instead of 3 loops each, 4 loops. When the length of the dress has reached 90 cm – we finish the robot.
Then according to the scheme we tie the neckline, we knit the arches from the air loops, and then we tie 10 arching posts into each arch. This robot is over.
Добавлена: Wednesday September 25th, 2013 Обновлена: Saturday April 27th, 2019