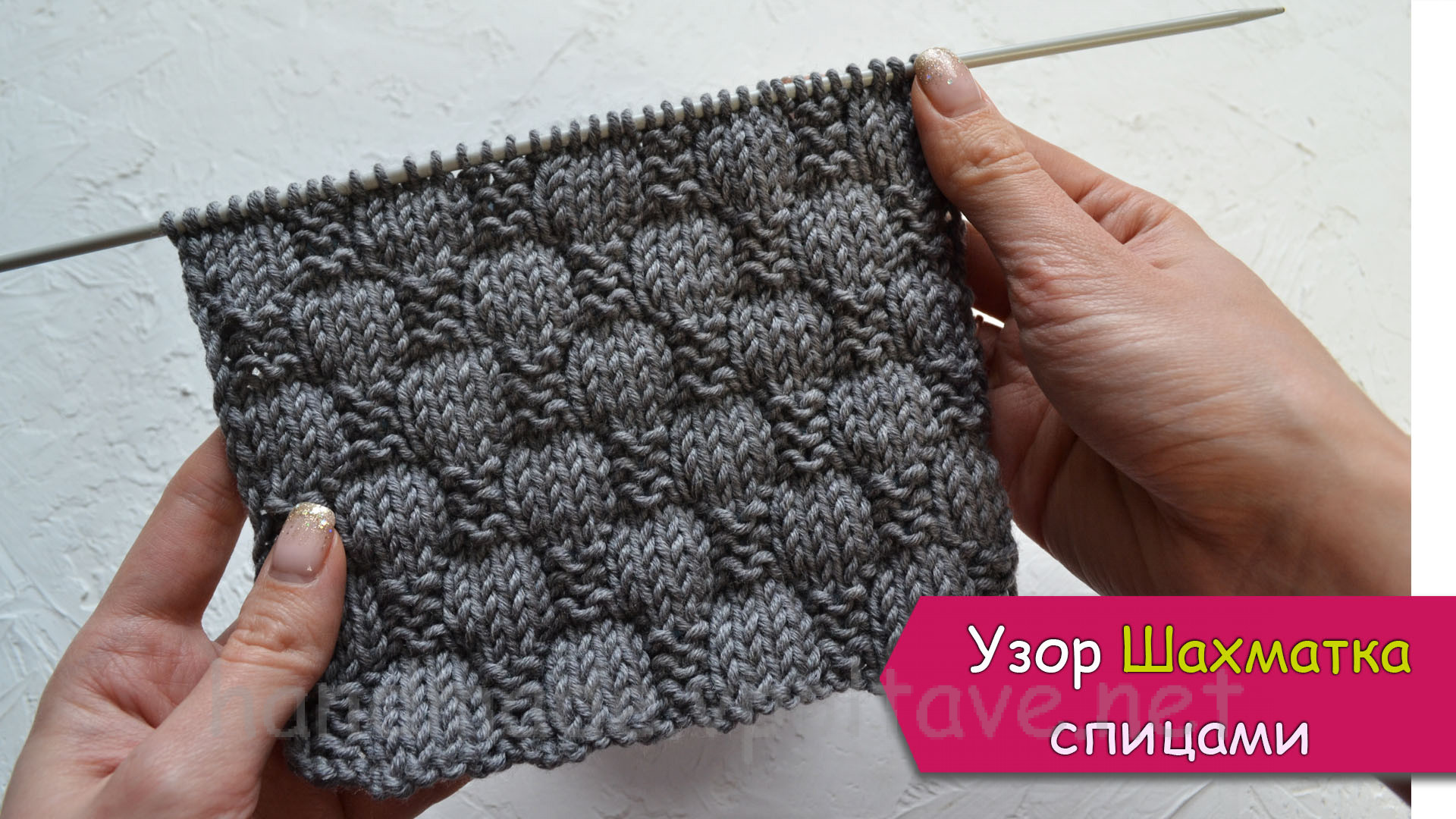 In this video I will show you how to knit amazingly – beautiful, and at the same time, simple checkerboard pattern

It consists only of purl and front loops, so even novice knitters can accurately handle it! The pattern is well suited for knitting scarves, snoods, hats, sweaters. cardigans. Especially good for menswear.
The rapport of this pattern consists of 8 stitches and 12 rows.
Yarn yardage for example 90 meters in 50 grams, needles number 3.5
To knit a pattern in rotary rows, we need to dial the number of loops in multiples of 8 + 4 loops for symmetry and + 2 edge loops
1 row: hem * 4 purl, 4 front * 4 purl, hem
Row 2: hem, 1 front, 2 purl, 1 front, * 4 purl, 1 front, 2 purl, 1 front * hem
Row 3: hem * purl 4, knit 4 * purl 4, hem
Row 4: hem, 1 front, 2 purl, 1 front, * 4 purl, 1 front, 2 purl, 1 front * hem
5 row: hem * 4 purl, 4 front * 4 purl, hem
6 Row: hem, 1 front, 2 purl, 1 front, * 4 purl, 1 front, 2 purl, 1 front * hem
7 row: hem, * knit 4, purl 4 * knit 4
Row 8: hem, purl 4, * 1 front, 2 purl, 1 front, 4 purl * hem
9 row: hem, * knit 4, purl 4 * knit 4
10 row: hem, 4 purl, * 1 front, 2 purl, 1 front, 4 purl * hem
11 row: hem, * knit 4, purl 4 * knit 4
12 Row: hem, 4 purl, * 1 front, 2 purl, 1 front, 4 purl * hem
Beautiful products and even loops for you!)
Добавлена: Sunday February 21st, 2021 Обновлена: Sunday March 21st, 2021